KUSUM GROUP OF COMPANIES
THE GROUP Kusum Group of Companies is involved in Business activities in diversified areas like Iron & Steel, Invert Sugar Syrup and Caramel, Commodities, Lead, and Education. The Group was founded by Late Shri A.P. Goyal under whose stewardship and vision the group has grown in leaps and bounds. As per his vision the group has core fundamental of "we value relationship". Invert Sugar India Ltd. (ISIL)was established in the Year 1997 ,having an experience of over One and a Half Decade of serving the Quality Conscious Food and Beverages Manufacturers across India. The First plant for producing INVERT SUGAR SYRUP with the state of art COMBINED CYCLE TECHNOLOGY, developed in- house was established in Malanpur Industrial Area, Gwalior in District Behind.

Madhya Pradesh being centrally located facilitates timely deliveries to our esteemed customers who may have multi-location manufacturing facilities in various states and need just in time supplies of raw materials such as Invert Sugar.

The In-House R&D of the companey is recognized by the Ministry of Science & Technology , Department of Science and Industrial Research (DSIR) New Delhi. .
KEY FEATURES OF MANUFACTURING FACILITY
The only ultra modern caramel manufacturing plant in Madhya Pradesh
Production process completely mechanized and automated based on latest technology.
Just In Time delivery approach
Well developed and modern In-House Research & Development and testing facility
Trusted and established name for high quality products .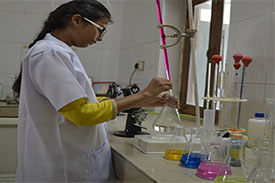 QUALITY ASSURANCE
ISIL is managed by technical experts and qualified professionals at each level. The plant is operated with all standard and best manufacturing practices being followed as per ISO norms since we have excellent testing facilities installed at plant ,the products produced are of superior and high grade quality. The quality control passes through multiple filter levels to meet both standard or customized needs.