Unique Technology
Benefits of Invert Sugar Syrup
Benefits of Invert Sugar Syrup :
Invert sugar syrup is ready to use – its biggest benefit is that it cuts down on operational costs and products time as it automatically fits into your production line. It not only saves on labour, capital costs but in most of the cases it has actually increased the productivity to meet the rising demands .
Benefits in Alcoholic /Non Alcoholic Beverage Industry :
Since kusum invert sugar syrup is ready to use in the formulation , consistency in production is achieved.
Having glucose gives instant energy thus a perfect fit for energy drinks
Fructose has natural affinity for flavour so upto 15% less flavour quantity consumption can be achieved.
It completely eliminates the chances of crystal flake formation the majoe problem faced by beverage industry.
Benefits in Bakery Industry :
Kusum invert sugar syrup has high inversion and low ash content which makes it a best fit for bakery industry
It lowers baking temperature thus providing faster baking
Provides rapid richer crust colour
Enhances texture ,reduces breakages in end product
Prolongs shelf life , helps retain moisture, improves freshness
Benefits in Pharmaceutical Industry :
Most IV (intra venous) manufacturers have started using invert sugar syrup in place of dextrose to make IV's more due to its easy metabolism
Specifications of your product can be maintained for long which otherwise may vary with using crystal sugar where refining reagents are used.
Saltish taste of cough oral liquids are masked efficiently
Ideal for pediatric syrups as it provides instant energy and natural sweetness
Benefits in Tobacco Industry :
It acts as humectants in cigarettes and also enhances flavour
Used for tobacco binding
It is used in pan chutneys to prevent crystallisation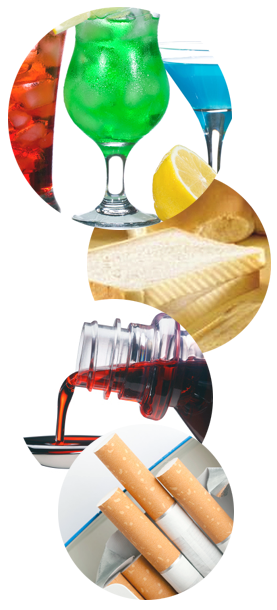 Get the Triple Advantage of Kusum Invert Syrup